Transplant Links Jamaica 2013
Kidney failure is a huge and growing problem for children and adults in Jamaica. Jamaicans are at added risk because of the high level of high blood pressure and diabetes, both of which can cause kidney failure. Until now the only chance for survival has been life on a kidney dialysis machine, which is a miserable existence. Only those who were wealthy enough were able to travel abroad for a transplant. The goal of the Transplant Links project is to work with the kidney team at Cornwall Regional Hospital to develop a kidney transplant service serving the people of Jamaica, both children and adults.
The first step was carried out in October 2013 when the first three transplants were carried out and all went well. This meant that a sister was able to give a kidney to her sister, a wife gave a kidney to her husband and a sister gave a kidney to her brother. All are making a good recovery.
The role of TLC was to perform the operations and teach the skills, with an ongoing collaboration over the next few years to continue skill transfer. The TLC team plans to return twice next year to continue to support the development of the project, and also to host the Jamaican surgeons in the UK to help develop their training further.
The team met the Health Minister Dr Fenton Ferguson at the end of the week at a press conference. Dr Ferguson fully supports the project and confirmed he will continue to do so.
Transplant Links is seeking sponsorship of the next phase of the project for the visits required in 2014, and is very grateful to the Lignum Vitae Club for offering their support through fundraising. We look forward to working with you to transform lives and teach skills so that many more patients can be helped in the future.
Debbi-Ann gave a kidney to her husband Wayne. They are both doing really well.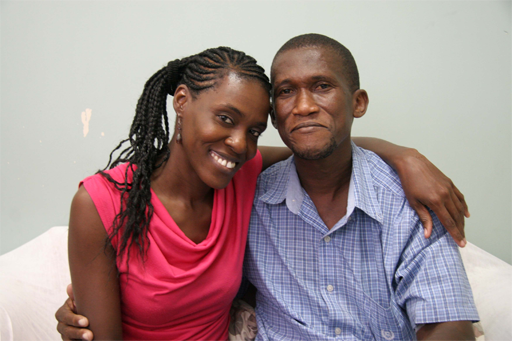 The TLC and Cornwall Regional Hospital Teams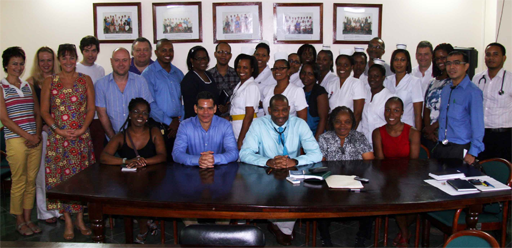 In the first transplant a sister gave her kidney to her sister
Here they are recovering immediately after the operations.
For more information visit the Transplant Links Community website.