Windrush 70 Year Celebration at the Houses of Parliament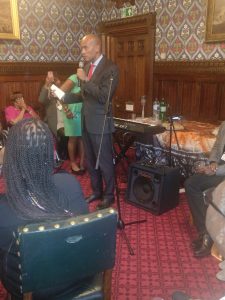 Last night, we attended a reception at the Houses of Parliament to honour the Windrush Generation and their descendants. The occasion marked the 70th anniversary year since the arrival of the Windrush Empire at Tilbury Docks in Essex on 22 June 1948, bringing approximately 500 Jamaicans to live and work in the UK. 
This event was hosted by the Streatham Ethnic Minorities Forum organised by the chair Maxine James.  The MP for Lambeth, Chuka Umunna gave a great keynote speech that you can view here.
There was only standing room remaining once the event began and a tasty selection of Caribbean refreshments were provided.
Chuka was slightly delayed so after Maxine gave a short introduction to the evening, we were lucky to have Marsha de Cordova, MP and former Lambeth Councillor, introduce herself and greet us all. Chuka arrived shortly after.
After the keynote speech, we enjoyed a poem by Maya Angelou read by Trevor Thomas, a trio of songs sung by a wonderful singer Mrs Philippa Bamgboye accompanied by Christopher Rose on the keyboard, and an original poem written and read by Harry James.
Thank you for a wonderful event Streatham EMF.